MEPs support the new EU enlargement strategy that would remove veto power
3 min read
Belgium (Brussels Morning Newspaper) A vast majority of MEPs passed a report on the new European Union enlargement strategy, which calls for significant reforms to the enlargement process, including removing veto power from member states when it comes to opening accession negotiations and closing acquis chapters.
The report, passed with 502 votes in favor, 75 against, and 61 abstained, is intended to present the European Parliament's vision for the future of the EU enlargement process in the form of recommendation to the European Council, the European Commission, and the High Representative of the Union for Foreign Affairs.
The report calls for streamlining of the EU's decision-making process with the goal to become a more credible and efficient global player. Calling for the EU to enhance its capacity to act, the report proposes a decision-making reform, which would introduce a qualified majority vote in areas dealing with the accession process. It stresses the need to abolish, in particular, the requirement for a unanimous vote when deciding on the start of the negotiation process, as well as when opening and closing individual chapters.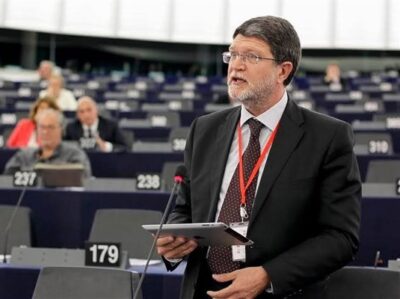 "New enlargement policy and EU internal reforms go hand in hand," said S&D MEP Tonino Picula, rapporteur behind the report. "Furthermore, the enlargement process will help advance the Union itself, but the rule of law must be at the center of this process."
The report also stresses the need for EU countries to fully align their common foreign and security policy with the EU, stressing that further advancement of negotiations with Serbia should take place only if Belgrade aligns with all EU sanctions against Russia, and if the country manages to demonstrate progress in democracy and rule of law, and embraces EU values and priorities. Otherwise, the EU should "reconsider any EU funds for Serbia," in order to ensure that "all EU expenditure is fully in line with the EU's strategic goals and interests."
Regarding open negotiations with Türkiye, the EP calls for keeping the accession process for the country frozen until it "genuinely engages with the EU and demonstrates clear and significant progress in the field of fundamental freedoms, civil and human rights and the rule of law."
The report also proposes offering candidate countries membership-oriented roadmaps with tangible and concrete steps, as well as regular feedback on the results achieved. This should also include political, economic, and technical inventions, ensuring that intermediate integration steps do not substitute but rather facilitate the final goal of EU membership.
"My final remark would be directed at citizens of candidate countries"," said Picula. "Most of them, in all but one of the countries, to be precise, support EU accession. By fulfilling its obligations and by demonstrating political leadership, the EU must show its current and future citizens that it can and will fulfil its historic mission. We want to make sure that the EU remains a community of European countries, which is developing, and which is open to joining democracies who think the same, and which share common values and interests."